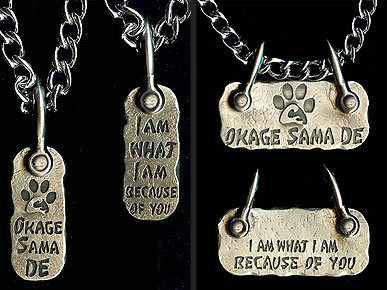 People Magazine article
"Okage Sama De
" is a Japanese phrase indicative of the sentiment "I am what I am because of you." You could say this to many people in your life: God, a best friend, a spouse, or a parent. In this instance, however, it is directed to dogs, who personify traits such as unconditional love, loyalty, honesty, courage, and unwavering commitment.
Dogs truly are man (and woman's!) best friend. The above article features "Sweet Bird Studio" operated by jewelry designer Nancy Anderson, who was inspired by a video of a faithful dog, to create dog tags & necklaces, and human versions of those same necklaces.
This loyal dog was in fact a Japanese dog who, in the aftermath of the recent Japan earthquake/tsunami, refused to abandon a fellow dog who was injured and unconscious. Nancy was struck by the faithful spirit of the dog and desired to create beautiful jewelry to honor all dogs, who truly are our best, faithful friends.
I first read about Sweet Bird Studio in 'Cowboys & Indians' Magazine, and went online and purchased one of these stunning, roughly-hammered necklaces to honor 3 dogs in my life: my childhood best friend named Penny, an apricot Toy Poodle whom I traumatically had to put down about 4 years ago; my new puppy Levi who adds so much fun and love to my life, and my parents' dog Bear, who is a large, 100-pound mass of Love wrapped in black fur. These dogs have enriched our lives so much, so it felt only right to purchase and wear a necklace in their honor, itself inspired by a faithful dog.
Nancy Anderson, the designer, will donate some of the proceeds from these necklaces to help other displaced pets in Japan, still recovering from the catastrophe.
You can find Nancy's creations on her Sweet Bird Studio website
here.
I think dogs are probably one of the best examples of the complete, unwavering way that God Himself loves us. Total, unconditional, everlasting. What a Love! What a wonderful God!